A few weeks ago I decided to go to Buffalo Exchange to do a little shopping. For those of you who don't know what that is, it is a second hand store that also has new stuff as well. People can bring in clothing, purses and shoes, and if they want the clothing you bring in they will either give you credit to use in the store or cash.
The thing I love most about Buffalo Exchange is that I almost always get clothes there for "free"!! The store is only 2 blocks from my house so here is what I do: I go shopping, if I find something I like I put it on hold, run back to my house and pull any old clothing I don't wear anymore (there is always a lot somehow), bring it back and exchange it for my new clothes! I usually end up doing pretty well and paying $0 for something new. What a great way to shop right?!
This is my fabulous find I got for "free" (originally only $18!) the other day that I am obsessed with.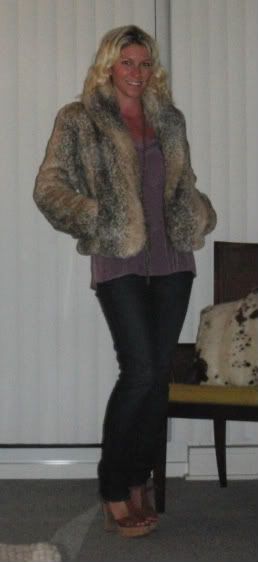 Faux fur is definitely the must have for this fall and winter. Have fun with it and wear it for any occasion! Wear it over a dress with tights, wear it with skinny jeans and thigh high boots or wear it with some great trouser flare pants.